Dream team to stage Irish Game Fair in the Irish Midlands on 28th & 29th August 2021
The Great Game Fairs of Ireland team responsible for 66 Irish fairs over 41years, and for publishing Irish Country Sports and Country Life magazine, has confirmed plans for the greatly anticipated new ROI event.
Making the announcement, Fair Director Albert Titterington said that a strengthened organising team will oversee the ROI Game Fair and confirmed a new event to be held in the Irish Midlands on28th & 29th August 2021.
While the location for the ROI Game Fair is still to be confirmed as the Covid 19 restrictions have delayed finalising the lease, today's confirmation of the date for the event and the addition of professional rabbit controller, writer & country sports enthusiast Steven McGonigal to the leading team in game fair history will be widely welcomed.
Steven McGonigal will join hugely experienced founding Directors Albert Titterington, Edwin Dash and Paul Pringle plus several other experienced event directors to form a new dynamic organising team.
Steven has been involved in the fairs in various capacities for 12 years. He now steps up to be joint Managing Director alongside Albert Titterington, with overall responsibility for planning and marketing of the fairs with specific responsibility for the success of the ROI event.
Steven McGonigal was born and grew up in the North West of Northern Ireland on the shores of Lough Foyle. Coming from a country sports family and living in an area that was once Ireland's largest commercial rabbit warren had some influence on his life.
At the tender age of 8 years old he obtained a pair of ferrets and spent his time hunting rabbits among the sand dunes and hills of his village where he developed a passion for rabbiting, country sports and the rural way of life.
Following secondary and college education, Steven spent the next decade working for a well-known accountancy firm, while spending his free time rabbit catching, hunting, shooting, fishing and writing on topics fuelled by his time in the outdoors.
Within a few years of beginning to write, Steven had been published in a wide variety of country sports publications and has since published two books, "The Seasons End" which sold out entirely and is now almost unobtainable, followed up by "The International Working Teckel".
After seeking a career change and feeling more at home with an outdoor life, Steven fulfilled a life long ambition and became a full time professional rabbit catcher and is one of only a handful in the British Isles and the only one in Ireland. With the skills he acquired and honed since a child, he is in high demand across the country controlling rabbits in various locations such as country estates, farms and even schools, universities and oil refineries. He also delivers a consultation service on rabid control to interested parties.
In 2009 he was snapped up as Irish Correspondent for GB-based Countryman's Weekly, a position he still occupies today. He continues to write and regularly contributes to various other publications worldwide, including Irish Country Sports and Country Life, Earth Dog Running Dog & Hunter's Path.
Steven makes regular guest appearances on various online podcasts and was put into the documentary spotlight in the 2019 BBC production, 'The Last Rabbit Catcher,' which followed his daily work.
In conclusion, Albert Titterington said: "Over the last 12 years Steven has worked closely with us on a number of crucial aspects of our Great Game Fairs Of Ireland events. While perhaps best known to game fair crowds for his 'The Victorian Poacher," performances in the main arena, he has played an important role year-round behind the scenes, working in many aspects of the events from logistics to marketing. This appointment brings an added dimension to our team and bodes well for our ROI Game Fairs' future. We hope to announce details of our magnificent new venue shortly."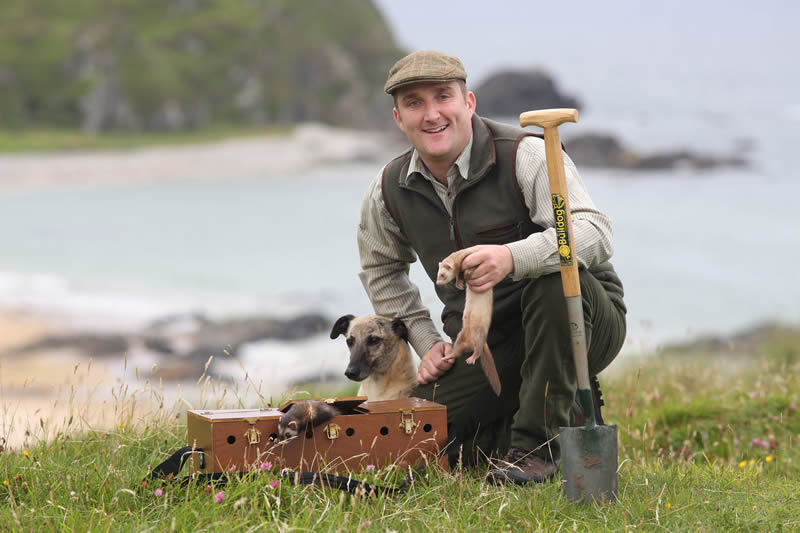 Steven McGonigal is pictured in "at work" with ferrets and dog (FUDGE)
For further details E: Irishgamefair@btinternet.com or call : Albert Titterington 048 4483167 or Steven McGonigal 00353 867937690 / steven.mcgonigal@gmail.com